RSM-PDT(B) High-Strain Pile Driving Analyzer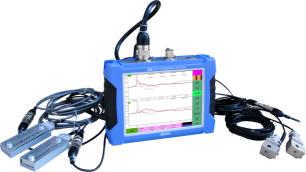 Application
Ø High strain dynamic pile monitoring of pile
Ø Low strain pile integrity detection by reflected wave method (optional)
---
Applicable standards
Ø Standard Test Method for High Strain Dynamic Testing of Deep Foundations ASTM D4945-12
Ø Technical Code for Detection of Building Foundation Pile JGJ 106-2014
Ø Dynamic Testing Technology Regulations on Highway Engineering Foundation Pile JTG/T F81-01-2004
Ø Nondestructive Detection Code for Railway Engineering Foundation Pile TB 10218-2008
---
Principle
l Working Principle:
RSM-PDT(B) pile driving analyzer will provide prediction on the pile bearing capacity, pile integrity, driving stresses and hammer performance for a given pile penetration. It is a relative low cost type of pile testing compared to static load test (MLT or CRP). The testing technique is quick and accurate.
RSM-PDT(B) tester also can be used to perform high strain pile bearing monitoring (HSPBM-Monitoring) to evaluate pile driving information for pile bearing capacity, pile integrity, driving stresses and transferred energy against pile penetration. The results are essential for the actual pile driving process and to obtain valuable data on the hammer, pile & soil system for re-design on the piled foundation (if necessary).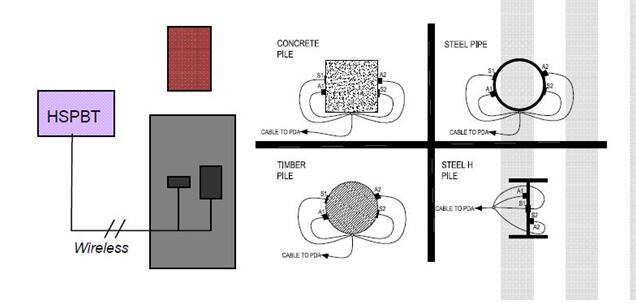 Technical Features
1. Original instantaneous floating point amplification technology can take into account the distortionless acquisition of strong and weak signals;
2. Removable lithium battery is provided, desktop charger is supported and spare battery can be provided to ensure that the field work will not be interrupted;
3. The bilingual operation in both Chinese and English is supported;
4. The balance of strain bridge can be adjusted automatically to reduce the impacts of initial deformation of strain ring on signal acquisition and eliminate the signal zero drift;
5. The three-dimensional correction function for shallow defect is owned and the defect can be located accurately;
6. Built-in Bluetooth and WIFI can realize the function of real-time monitoring of wireless uploading;
7. With fast signal acquisition pace, the 60 hammers/min signal acquisition can be completed and the piling monitoring testing can be carried out in real time;
8. 8.4-inch true-color LCD screen is used, the curve is clear and direct and the backlight can be adjusted;
9. Portable high-strength engineering plastic shell with small volume and light weight can make operation easy;
10. 24-bit A/D combination design has large dynamic range and high signal to noise ratio;
11. Self-test for sensor installation status can be conducted in the field in real time;
12. Touch screen operation, friendly software interface and easy operation;
13. Analysis results by Case method, F-ZV curves and upper and lower traveling wave curves are displayed in the field;
14. With adjustable screen brightness, it can be used in a variety of lighting conditions;
15. Background color and curve color can be adjusted to meet customer needs.
---
Field testing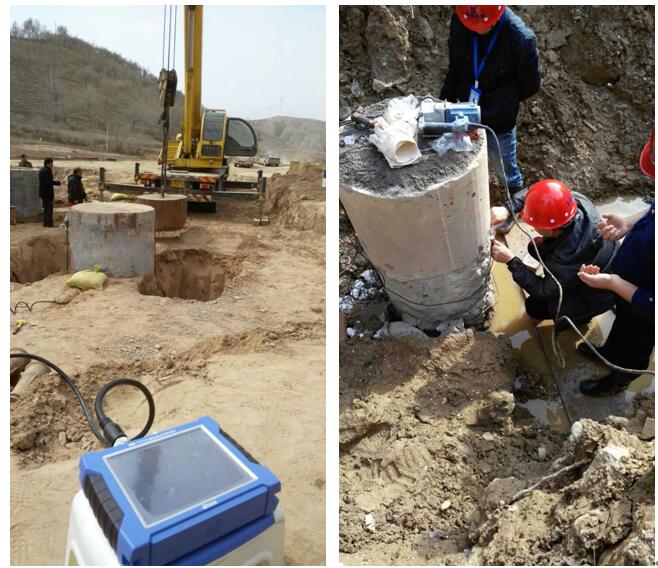 ---
RSM-CASE high strain analysis software
Software Feature
1. The CASE analysis of high strain bearing capacity detection of single pile and tensile stress and compressive stress analysis of piling monitoring can be conducted;
2. Amplification, translation, rotation, filtering and other processing can be carried out for wave signals;
3. Original curve, velocity curve, force curve, force velocity curve, upper and lower traveling wave curves, displacement velocity curve, energy curve, tensile stress curve and other display modes can be selected for observation, processing and analysis;
4. Output contents can be customized and multiple output methods are supported;
5. CASE damping coefficients can be adjusted conveniently to obtain the calculation results of different JC values.

---
RSM-CAPWAP high strain fitting analysis software (optional)
Software Feature
1. The fitting analysis of high strain bearing capacity detection of single pile can be carried out;
2. Fitting parameters can be adjusted conveniently and quickly and the recommended parameters table is provided so as to grasp the fitting skills quickly;
3. The simulated static load test curve and pile soil resistance distribution diagram can be output;
4. Original curve and fitting calculation curve can be output in a variety of modes;
5. A variety of soil models can be selected to fit a variety of geological conditions in China;
6. The output in Chinese and English is supported and a variety of international codes and requirements are met;
7. Common Windows platform operation makes the system run safely and reliably.
---
Specification
Model
RSM-PDT(B)
Display method
8.4-inch true-color LCD screen
Resolution: 800×600 (adjustable backlight)
Storage capacity
16G electronic hard disk
Master control system
Low power embedded system
Basic frequency≥1GHz Memory: 512M
Sampling interval
High strain: 10-500μs multi-level adjustable
Low strain: 5-1000μs continuous adjustable
Floating point magnification
1~256
Recording length
1k
A/D conversion accuracy
24-bit instantaneous floating point
System noise voltage
<20μV
Dynamic range
≥100dB
Data export method
USB
Frequency bandwidth
2~12000Hz
Sensor bandwidth
0.5~9000Hz
Power supply mode
Removable lithium battery; desktop charger is supported
Service life≥8h
Operation mode
Touch screen
Number of channels
High strain: four channels
Low strain: one channel
Acquisition mode
Acceleration for two channels + strain for two channels
Sensor
Piezoelectric accelerometer, strain ring and speedometer
Trigger level
Seven-level selectable
Operating temperature
-20~+55℃
Shell
High-strength engineering plastics
Dimensions
255×180×60mm
Weight
1.8kg (including lithium battery)
---