RSM-PRT(S) Low Strain Pile Integrity Tester
Application
Ø Low strain pile integrity testing by reflected wave method
---
Applicable standards
Ø Standard Test Method for Low Strain Impact Integrity Testing of Deep Foundations ASTM D5882-07
Ø Technical Code for Detection of Building Foundation Pile JGJ 106-2014
Ø Dynamic Testing Technology Regulations on Highway Engineering Foundation Pile JTG/T F81-01-2004
Ø Nondestructive Detection Code for Railway Engineering Foundation Pile TB 10218-2008
Ø Technical Code for Detection of Building Foundation JGJ 340-2015
Ø《Standard Test Method for Low Strain Impact Integrity Testing of Deep Foundations》( ASTM D5882-16)

---
Principle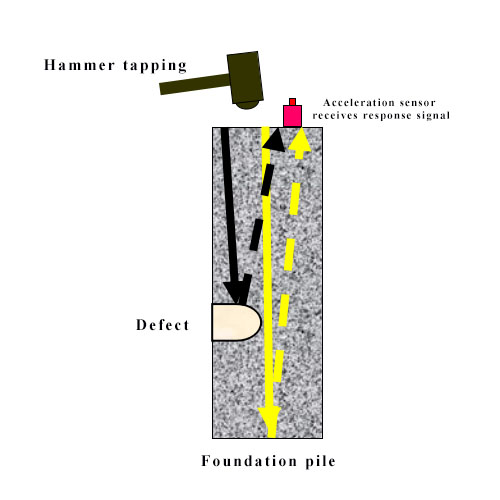 Pile integrity test is based on wave propagation theory. The name "low strain pile integrity test" stems from the fact that when a light impact is applied to a pile it produces a low strain.
The impact generates a stress wave that travels down the pile. When the downward stress wave encounters a change in cross section or in concrete quality, it generates reflected wave that is later observed at the pile top. By analyzing the propagation time, amplitude and phase of that reflected wave, it has evaluation of pile integrity ultimately.
---
Technical Features
1. Original instantaneous floating point amplification technology can take into account the distortionless acquisition of strong and weak signals;
2. Removable lithium battery is provided, desktop charger is supported and spare battery can be provided to ensure that the field work will not be interrupted;
3. The three-dimensional correction function for shallow defect is owned and the defect can be located accurately;
4. Small volume, light weight, portable type and easy operation;
5. High-strength engineering plastic shell has stable and durable structure and strong safe reliability;
6. Piezoelectric acceleration sensor and speed sensor are compatible;
7. Tablet PC or wireless mobile remote control host is configured and the wireless remote distance can reach 30m.
8. Filtering, index amplification, defect locating and other analysis functions can be conducted in the field.
---
Software Feature
1. Average superposition analysis of multi-channel collected signal is supported;
2. Amplification, translation, rotation, filtering, index amplification and other processing can be carried out for wave signals;
3. Multiple report output styles can be selected and the report output style can also be customized;
4. Automatic generation function of engineering detection information is owned;
5. Analysis operation can be processed in batch to save the analysis operation workload of the same type of pile;
6. Bilingual operation both in Chinese and English is supported and the output format meets a variety of international codes;
7. Vector diagram output, print output, Word file output and other output modes are supported;
8. The frequency domain analysis function is owned to calculate the whole pile frequency and defect frequency conveniently and quickly.
---
Specification
Model
RSM-PRT(S)
Display method
Tablet PC or mobile phone (ISO system)
Storage capacity
16G electronic hard disk
Signal acquisition method
Wireless, (remote distance can reach 30m.)
Master control system
Low power embedded system Basic frequency≥1GHz Memory: 512M
Sampling interval
5~1000μs
Floating point magnification
1~256
Recording length
1k
A/D conversion accuracy
24-bit instantaneous floating point
System noise voltage
<20μV
Dynamic range
≥100dB
Data export method
USB, Cloud space
Frequency bandwidth
2~12000Hz
Sensor bandwidth
0.5~9000Hz
Power supply mode
Removable lithium battery; desktop charger is supported
Service life≥12h
Operation mode
Tablet PC or mobile phone (ISO system)
Number of channels
1
Sensor
Piezoelectric accelerometer and speedometer
Trigger level
Seven-level selectable
Operating temperature
-20~+55℃
Shell
High-strength engineering plastics
Dimensions
220×160×56mm
Weight
1.1kg (including lithium battery)
---